DODO PALGANTONG SUNNY SET
SOLD OUT
HOT ITEM AT KOREA DAN HONG KONG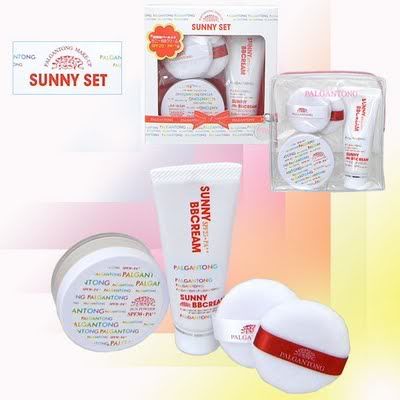 Senarai pakej:
1. Palgantong Sunny BB Cream SPF 25 PA++ (15gr)
2. Palgantong Sun Loose Powder SPF 30 PA++ (10gr)
3. 2x Powder Puffs
Sunny BB Cream membantu dengan sangat efektif dalam memperbaiki tona kulit, melindungi cela dan garis2 halus dengan baik. Melindungi kulit muka daripada pancaran matahari dengan SPF 25 PA++ dapat membantu menghalang pembentukan black spots. membuatkan mekap lebih tahan lama sebab kandungannya oil-free.
Dodo powder membantu melindungi pori, menyerap minyak dan mebantu menjadikan mekap perfect sepanjang masa..
DODO PALGANTONG MORNING SET
STOK : SOLD OUT
Menghasilkan wajah yang lebih cantik dan membantu menghasilkan flawless natural look di muka

Senarai pakej :
1- palgantong thearatical loose powder 10g
2-Palgantong bb cream SPF 1515g
3-Powder puff

Palgantong bb cream morning merupakan sunblock dan foundation. Sangat efektif menahan sinar UV, melembab kulit kerana mengandungi jojoba oil dan hyaluronate. Bedak dodo boleh menutup pori2 yang kelihatan di muka. Perfect untuk mekap kerana menghasilkan kesan 3D, dapat menyerap lebihan minyak dan bedak tahan lama

DODO THEARATICAL POWDER LIMITED EDITION 10G
STOK LAVENDER : 17 UNITS
STOK DODO ORIGINAL BEIGE :
AVAILABLE

Ada 2 warna:
1- original beige (pink box) - untuk pinkish look
2- Color pearl powder - untuk yellowish look
This year, Palgantong committed to the [bare makeup Variations] reaches its climax, launched a new limited special edition Sui Fen-Flower collection, must have a pleasant surprise to bring you freshness.
The new limited edition portfolio of autumn and winter ..
Will be installed to achieve the ultimate perfection naked ....
Looking finish, or liquid foundation for later use.
Powder as the use of a layer of makeup after gently sweeping, flashing bright pearl ingredients can be used as partial to mention.
Limited Special Edition Suifen 08 Flower collection includes a set of two colors Department of Suifen. There has always been of the most popular Movie detailed natural color of the transparent muscle (OB) Sui Fen, hue nature, is able to create natural-looking results. Filled with new members to join the new romantic smoked purple Suifen, which with a faint nausea powder, in addition to bringing flickering effect, the better adjustment of yellowish color. In response to needs, either individually or with the use of makeup can make more paste and more durable